Today we're back to another Halloween project and this pumpkin box is really teeny! It will just hold one small chocolate but isn't it cute?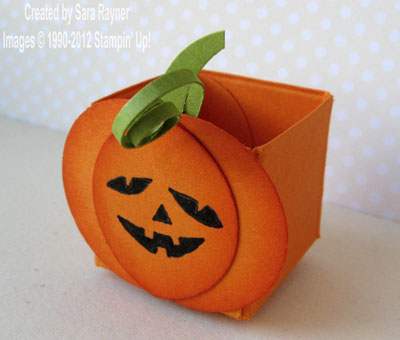 The box base is made using the Petal Card Double Punch (119273) with Pumpkin Pie card and I'll be back with a quick tutorial for that soon. To make the pumpkin itself, three 1-1/4 Circles (119861) were punched from Pumpkin Pie card and one of the Circles reinserted and punched again to create more of an oval shape for the centre of the pumpkin. All of the pieces were sponged around the edges with Tangerine Tango ink and then the full circles adhered direct behind the oval, leaving a section of each sticking out. A face was drawn onto the centre oval with a Basic Black marker. (Tip – google Halloween pumpkin faces if you need ideas for what to draw). A stalk was punched from Old Olive card using the 1-1/4″ Circle again, re-punching to get the curved shape and a very narrow strip of Old Olive card was curled around a pencil. The stalk and tendril were adhered behind the pumpkin before adhering all to the front of the box.
Back tomorrow with the same box with a Christmas makeover.
Sara xx