Hope you're having a good weekend. I am, I'm just so excited, I can't wait to place my first big order from the new catty in the morning!
As usual at the launch of a new catty, I'll have a few projects to share with you tomorrow to highlight just some of the fresh products available, so please stop by.
Meanwhile, today I have another Halloween project to share with you.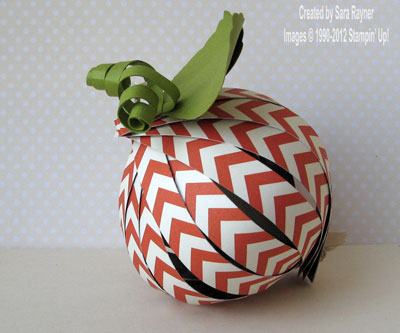 The pumpkin is made with strips of Howlstooth and Scaringbone DSP (126906). Holes were punched in either end of the strips and Crumb Cake Taffeta Ribbon (122966) was knotted and threaded through first one end then the other end of the punched strips. The free end of the ribbon was pulled up tight to create the curve in the strips, knotted on the outside and the strips were fanned out to form the ball. A couple of leaves were punched from Old Olive card using the Blossom Petals Builder punch (121808) and tendrils were created by coiling thin strips of the same card around a pencil. These were adhered to the outside top of the ornament.
I'll be back with a Christmas makeover of the same ornament in a few days, after the launch 

Sara xx