Hope that you're having a great weekend. I've been having a blast! I've been crafting with my past hostesses and with customers at a workshop yesterday, having so much fun showing them the new products that I'm really giddy over 

Don't miss my Open House next Saturday if you're in the area, then you can see them for yourself.
You may notice that I luurve this new Petite Purse die! It's so sweet and cute and you can make it really simple as here, or you can dress it up as I did for my hostess treats.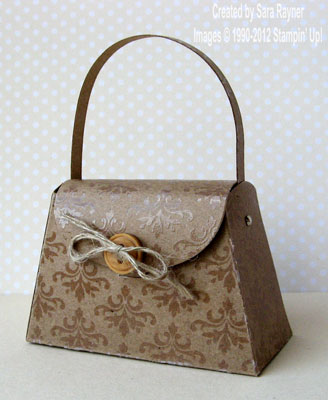 The Petite Purse (125606) was die cut from the new Natural Composition Specialty DSP (126917). Did I say DSP – as in Designer Series Paper? Well, yes  it's grouped under DSP when you look for it in the catalogue but it's actually serious card weight, not paper at all and it's matt on one side and has a glossy embossed pattern on the other (as though it's been clear embossed) – gorgeous! The Purse was assembled (I'll be back later in the week with a few hints and tips for this) and the handle added with Mini Brads (122941). The purse lid tucks in so that little Naturals Designer Button (127554) that you see, is for decoration only and it had Linen Thread (104199) tied through and tied in a bow before it was added to the Purse with a Mini Glue Dot.
Here you can see the opening for the Purse more clearly (the die even cuts the little slot for you to feed the tab into!).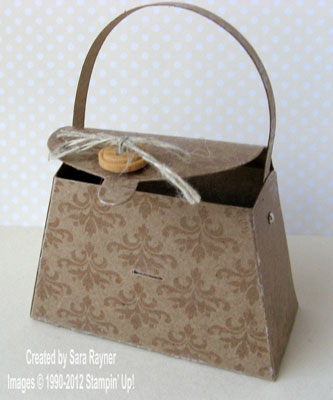 It's just big enough for a few sweets, or some jewellery, or a chapstick/lipstick (well, what handbag is complete without a lipstick, heehee).
I'll be back with another new favourite product tomorrow (well, two actually).
Sara xx