I'm just back from today's team training and had a wonderful afternoon with the team again (those members that could make it – hope that some of the overs get better soon – we've got some illness in the team at the moment).
We had a little sneak peek of the new year Sale-a-bration goodies – brilliant! Our make and take featured one of them 

Joanne presented a great demonstration that I can't wait to try out and of course we had plenty of swapping. I'll share everyone else's just as soon as I'm home in daylight to be able to photograph them. For now I'll share the swap that I made for everyone else. My face to face class customers also got one of these as a little Christmas pressie from me.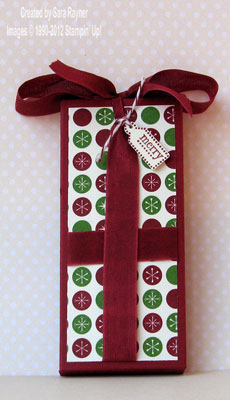 The box is made from Cherry Cobbler card. This one is covered with Be of Good Cheer DSP (126896), some of the others had Snow Festival DSP (126908) instead. Cherry Cobbler Seam Binding Ribbon (120992) was used to "wrap" the present and as the slider mechanism to pull the contents out. The frame and the sentiment from the Tiny Tags set (W118091 or C118592) were stamped in Cherry Cobbler ink onto Very Vanilla card and punched out with the Jewelry Tag (117190) before tying it on with Cherry Cobbler Baker's Twine (123125).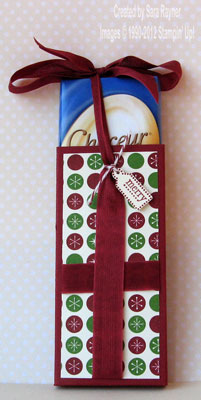 There's no need to undo the bow on top, simply pull it up and the gift slides up with it 

Here's a pic of a batch of them covered in different papers.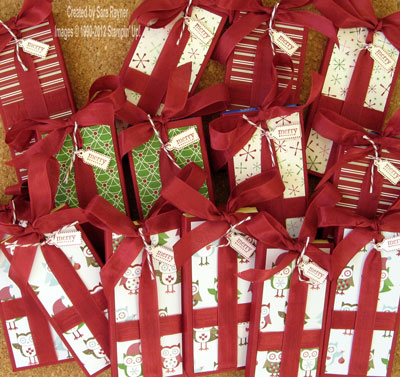 We've set the date and time for our next team training, so if you'd like to join us, then please pop it in your diary. We'll be getting together 1pm-3pm on Sunday 10 February 2013. Our meetings are open free of charge to any guests who may be thinking of joining our team or purchasing the SU! Starter Kit. There's no pressure to sign up – we're not that kind of team – just a chance to find out more and get any questions you may have, answered. If you'd like to come along then please let me know so that we can make sure we have a make and take pack for you.
Sara xx