Wishing you all a very happy, healthy and wealthy 2013!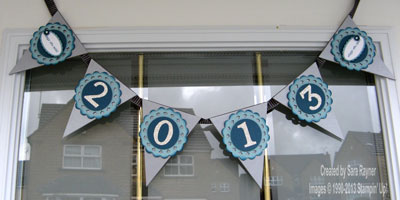 We have some exciting changes lined up for this year. We've already announced a change to our face to face classes. There will also be new online classes heading your way, more videos (I hadn't realised how long it was since our last ones

) and a new look to our website and newsletter.
Speaking of which, are you signed up yet for our free newsletter?
As well as news about all our classes, the latest offers from both SU! and Sara's Crafting and Stamping Studio, you'll also get an exclusive project and hints, tips or techniques with every edition. It's emailed out twice a month, usually on the 2nd of the month and around mid month. However as the SU! offer won't launch until the 3rd January, it's going out a day late this month and so you still have time to sign up. Just complete the signup box top right where it says Sign Up For My Newsletter.
Thanks
Sara xx
PS. Do you like the new year banner? I've been meaning to make one of these for ages but had such involved plans for the layers and such, that I never got around to it. I kept this one simple and it took me around an hour yesterday. Now I'd love to make some fancier ones but if keeping it simple gets it done, then that's what I'll go for in future