Our Sale-a-bration goodies aren't just for cards of course and so today's sneak peek in our countdown, is a gift bag.
It uses two of the freebies; Sycamore Street DSP (twelve sheets of 12″ x 12″ paper) and the matching Sycamore Street Ribbon & Button Pack (3 spools of ribbon and 36 buttons).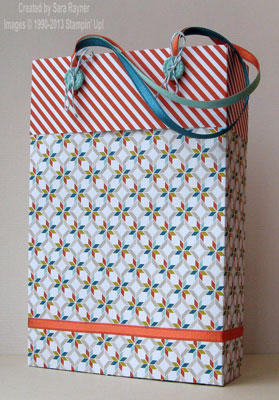 The gift bag uses two matching sheets of paper, with the top folded down (so you see both sides of the paper). Some of the Tangerine Tango ribbon was used to trim around the base of the bag and all three ribbons were knotted together to use as handles. Island Indigo Baker's Twine (125575), available already in the main catalogue, was used to tie the Pool Party buttons in place.
The bag is large enough to tuck a DVD case (or clear mount stamp set

) inside.
I'll be putting my own Sale-a-bration order in first thing on Tuesday, so if you'd like me to include your order too, then please email me or give me a call on 0775 1133886.
Sara xx