The new Spring catalogue has a particularly gorgeous Specialty paper set, More Amore (129309), that is brilliant for Valentine's. (The colour combo is so beautiful and not one that I would have thought of).

If you order them now, then you'll just have time to make your Valentine's projects. But of course these papers aren't just for Valentine's, the heart papers will be perfect for wedding and anniversary projects and most of the papers are double sided (with the exception of the laser cut hearts) so the "other" sides can be used for any occasion.
The papers have been combined here with the Itty Bitties to create a fun Valentine's card.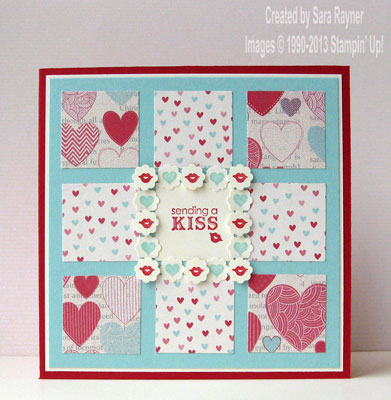 The card base is a large square of Real Red, matted with Very Vanilla and Pool Party card. Two different heart papers were punched out with the 1-1/4″ Square (119865) and arranged around the outside of the card front. The sentiment from Petite Pairs (W122495 or C122497) was stamped in Real Red ink onto Very Vanilla card and punched out with the same square punch. A kiss was added with the lips from the Itty Bitties (128939) also stamped in Real Red and then the square adhered in the centre of the card front. More kisses (in Real Red ink) and hearts (in Pool Party ink) were stamped onto Very Vanilla card and punched out with many petalled flower from the Itty Bitty Shapes punch (118309). The hearts were adhered direct and the kisses popped up on slivers of dimensionals around the central sentiment.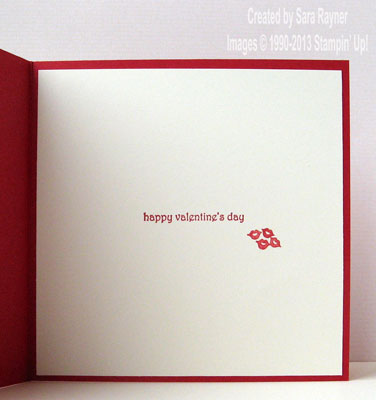 On the Very Vanilla insert, a valentine's sentiment from Teeny Tiny Sentiments (W129579 or C120024) and more kisses, were stamped in Real Red ink.
If you'd like to place an order in time for Valentine's Day then please email me or give me a call on 0775 1133886 as soon as possible.
Sara xx