Just got back in after a great afternoon out with the team! I've got some fabulous swaps that I'll share with you in a few days. We had brilliant demonstration from Joanne involving reinkers and baby wipes and also a fun make and take that I know some of the team will be sharing at their own events coming up soon.
We've been discussing the Stampin' Up! Convention. It takes place 21-23 November in Manchester this year, but we expect bookings to open sometime early May (if past events are any indicator) and it sold out within two months last time.
Last but not least, we've been getting a little giddy looking at some of the sneak peek items that, as demonstrators, we're getting to see, a little ahead of the crowd. Jealous? Pop back tomorrow – there may be a little extra incentive to sign up as a demonstrator and join our Paper Dolls team 

Meanwhile … these were the swaps that I made to give to everyone else today.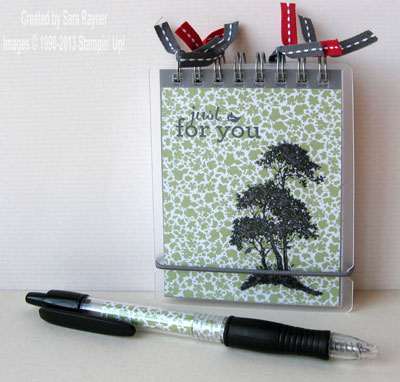 The basic notepad and pen were from Wilko. Twitterpated DSP (125406) was used to cover the front paper cover of the notepad and rolled around the barrel of the pen. The tree from Serene Silhouettes (W127322 or C127324) was stamped on the inside of the frosted cover in Black Stazon and the sentiment from the Pop-Up Posies Designer Kit (131395) over the DSP in the same ink. Basic Gray Stitched Grosgrain (126879) and Real Red Stitched Grosgrain (126875) ribbons were tied onto the spirals.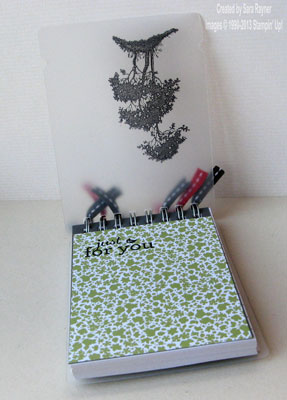 Stamping the tree on the inside like this, stops it from getting scratched off as it rolls around in your bag.
The paper you can see uses Pear Pizzazz for the green leaves. This was an In Colour a year or so ago but will be making a comeback on 1 July as a core colour.
Here's the batch of notebooks and pens.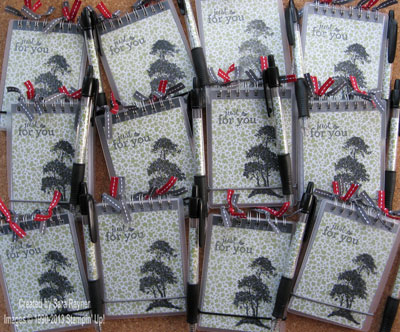 Fancy coming along to our next meeting? It's booked for 1pm – 3pm, Sunday 21 July (after the new catty has come out so that we can have a share of new products) so pop the date in your diary and drop me an email or text (o775 1133886) to let me know you want to come along.
Don't forget to check back tomorrow for news of our latest offer.
Sara xx