Less than 1 week left to get an extra £25!

I've been doing a little spring cleaning this holiday weekend, both physical and electronic and I realised that I never shared this get well card that I made for my Mum.
I made a small mistake with it, but that's all to the good really, as my mistakes turn into tips to be shared with you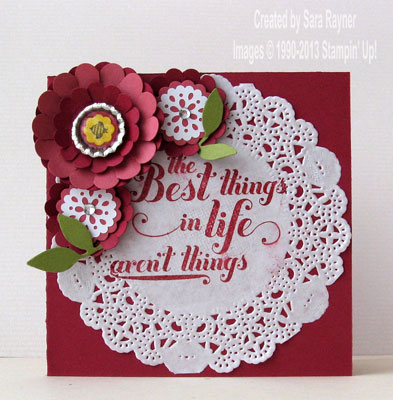 The card base is a small square of Raspberry Ripple. A sentiment from the Feel Goods set (W129681 or C129684) was stamped onto a Tea Lace Doily (129399) using Raspberry Ripple ink. (Tip – the doilies have a glossier surface than Whisper White card so leave to dry for longer than usual or dry with the Heat Tool to avoid smudging the ink 

). The doily was then adhered direct to the card front. 1-3/4″ Scallop Circles (119854) were punched from Raspberry Ripple and Primrose Petals card, the flowers snipped between each petal and shaped and then adhered together, offsetting the petals. Three 1-1/4″ Scallop Circles (127811) were punched from Raspberry Ripple card, snipped and shaped as before and one of them layered in the centre of the larger flower. The teeny bee from the Itty Bitties set (W128939) was stamped in Black Stazon onto Daffodil Delight card and punched out with the Itty Bitty Shapes flower (118309). This was then matted onto 1/2″ Circle (119869) punched from Primrose Petals, adhered to a small, flattened Soda Pop Top (129388) and covered with Crystal Effects (101055) before adhering to the centre of the large flower. Two circles of Delicate Details Lace Tape were snipped off and adhered to 7/8″ Scallop Circles (129404) punched from Primrose Petals card. These were then adhered to the two larger flowers retained from earlier and all three assembled flowers were adhered to the card front. Little Leaves (114511) die cut from Gumball Green card were tucked under the flowers and Basic Rhinestones (119246) finished the centres of the Lace Tape flowers.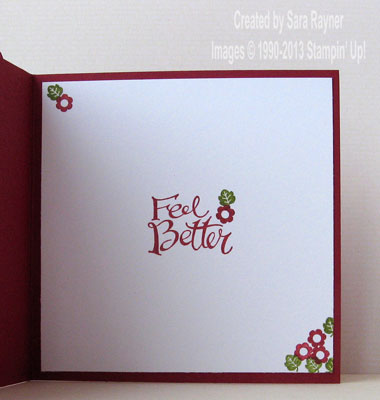 On the Whisper White insert, a sentiment from Sassy Salutations (W126705 or 126707) was stamped in in Raspberry Ripple ink and flowers and leaves from the same Itty Bitties set were stamped in more Raspberry Ripple and Gumball Green inks.
Although I used a lot of different materials to make the embellishments for this card (I was trying out my new products, lol) you could easily copy it but make the embellishments simpler.
Now, back to more cleaning 

Sara xx