That's what I told the Paper Dolls today. I was meaning one of these sweet treats of course!
These were my swaps for teammates today as we met for our pre-convention party

. We had a really good crafting session today. It was great to see so many beautiful ideas and I had the added bonus that some of the group that aren't coming to convention, helped me out making my convention swaps! Thank you so much Andrea and Catherine – you're gems! I'm not sharing the convention swap designs until after the event has taken place in November as I don't want to spoil the surprise for anyone.
Meanwhile, back to today's swaps (which were also made with the help of Paper Doll pal Hazel, whilst we were at the Papercraft Show yesterday – thanks Hazel).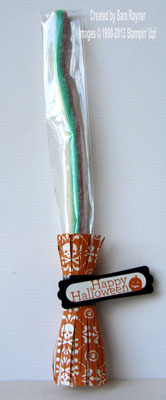 A candy cable was popped in one of the long skinny cello bags (124134) and sealed. A square of Witches Brew DSP (132185) was snipped top and bottom and rolled around and adhered to the bottom of the cable. Witches Brew Washi Tape (132156) was wrapped around the unsnipped portion. After stamping the sentiment from Delightful Dozen (W128547 or C122652) in Pumpkin Pie ink onto Very Vanilla card it was punched out with the Word Window (119857), then matted onto a Modern Label (119849) of Basic Black and popped with a Mini Glue Dot onto the broomstick.
Here's the batch of them.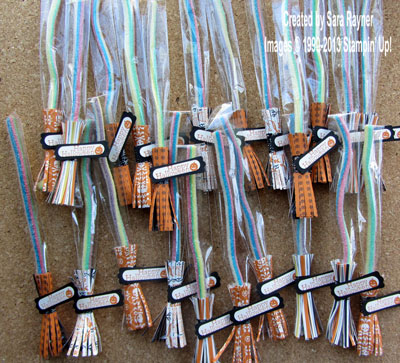 I plan on making more of these for when the kids come round on Halloween, trick or treating.
So looking forward to convention after chatting about it so much today

. Registration close on 10 October so if you'd like to join us, please email me ASAP so that we can be sure of getting all the paperwork completed in time.
Sara xx