I like to do something a little special for the team mates that come with me to Convention and this year I made them all a little Convention Survival bag. Originally I was going to make it to resemble a first aid box but then decided that they might prefer a more girlie bag that they could more easily re-gift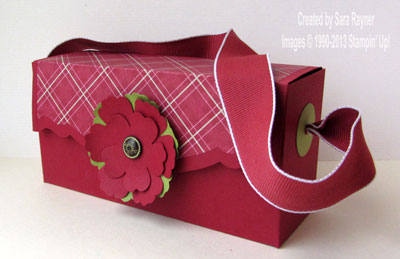 The box was made with Cherry Cobbler Textured card (132129) on the Simply Scored board (122334) with a layer of Season of Style DSP (132340). Both were shaped along one edge with the Adorning Accents Edglits die (125595). The flower was made with a combination of Blossom (125603) and Pansy (130698) punches and Cherry Cobbler and Old Olive card and secured to the bag lid with an Antique Brad (117273). A handle of Cherry Cobbler Stitched Edge Ribbon (132135) was threaded through holes reinforced with 1″ Circles (119868) punched from Old Olive card.
Each Convention Survival bag contained:
Hot choc – to help you wind down and sleep when your mind's racing with ideas
Kitkat – for when you need a break
Plaster – to cushion that blister!
Clip – for when you need to hold it all together
Stickies – for adding quick notes to your catty
Mints – for a quick freshener and pick me up
Highlighter – for highlighting those great ideas or must have purchases
The stickies and clip were "dressed up".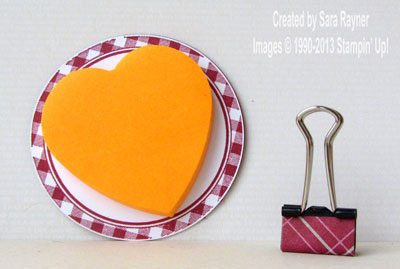 The clip was covered in Season of Style DSP. To create a backing for the Stickies, the gingham circle from Kind & Cozy (Wood 129123 or Clear 129126) was stamped in Cherry Cobbler ink onto Whisper White card, punched out with the 2-1/2 Circle (120906) and adhered to another 2-1/2″ Circle of Textured Cherry Cobbler card.
I hope they found them useful 

Would you like to join the team and come along with us to Convention? Next year's will take place in Brussels, 16-18 October.
A quick check on the internet shows Eurostar tickets from £69 return and its possible to find a hotel from only £40 per night, so travel costs don't have to be expensive … and if you work your Stampin' Up! business, you could earn the money to cover those expenses before we go!
Email me for more information about joining (I have a few tips to share) or if you can't wait, then click here to sign up now.
Sara xx