Christmas Eve – just one more sleep to go (okay maybe two if you count the afternoon nap that I need, lol).
This little choccie treat was made using MDS and another project tutorial from over at UStamp with Dawn and Friends – Wrapping up the Holidays.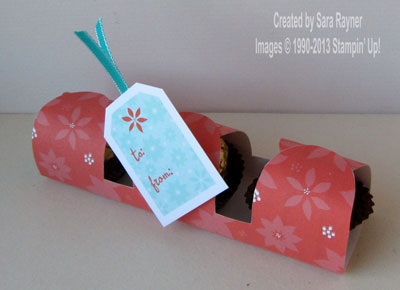 I love the ingenious use of the box punch that comes as part of the Snowy Soiree software add-on (135261).
There are three Ferrero Rocher choccies wrapped within.
Apart from printing the wrap and the tag onto Whisper White card the only other thing I added was a tiny piece of Bermuda Bay Taffeta Ribbon (131206).
Why not test drive the FREE 30 day trial of MDS yourself over the Christmas hols and see whether you get on with it.
Sara xx