Yay!! It's started!!! Sale-a-bration is now underway and runs until 31 March 2015.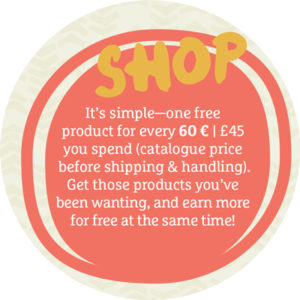 You get a FREE sale-a-bration product for every £45 you spend on Stampin' Up! goodies, whether those goodies are from the current main catalogue, or the new Spring/Summer catalogue. There's no limit – for every £45 you spend, you choose another freebie. There are 1o exclusive products to choose from, plus a dozen sets of Blendabilities!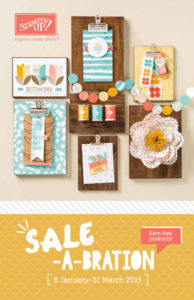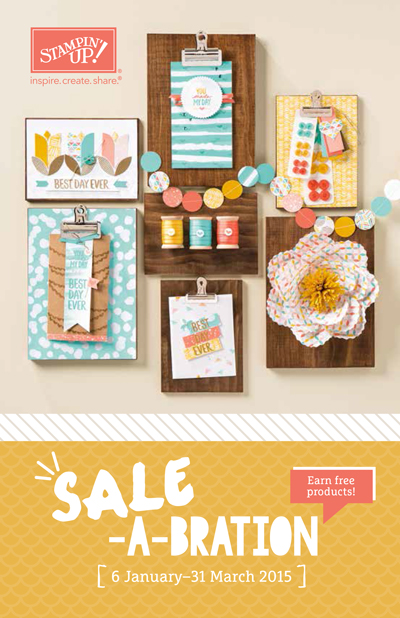 Click on the link here to download the pdf version of the brochure.
If ordering online, then you get to choose your freebie when you checkout.
After giving delivery details you will get to a screen such as this: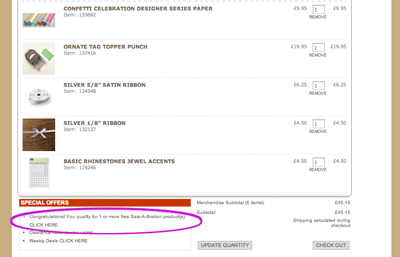 You will see under the SPECIAL OFFERS section at the bottom (circled in pink above) a notice that you have qualified for free Sale-a-bration product(s) and need to CLICK HERE. This takes you to a list of Sale-a-bration products to choose from: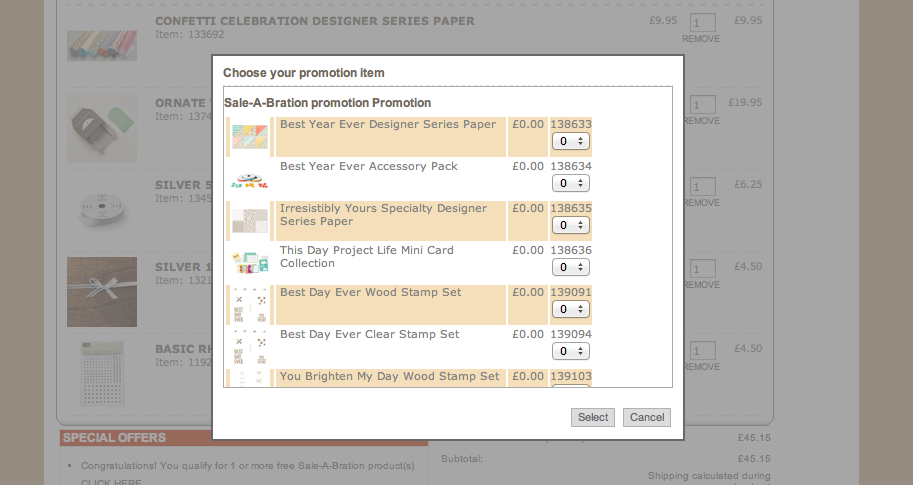 Simply change the quantity on the product(s) you wish to choose and click Select.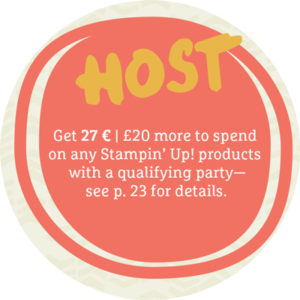 THE IDEAL TIME TO HOST A WORKSHOP!
We don't mind whether you call it a party, a workshop or a get together. Get extra when you host during Sale-a-bration!

To book a workshop, please email me or give me a call on 0775 1133886 and let me know your preferred date.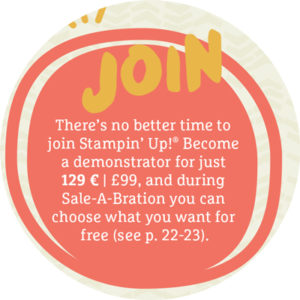 THE IDEAL TIME TO JOIN OUR PAPER DOLLS TEAM
Join Stampin' Up! during Sale-A-Bration and you get to choose £130 worth of products for your starter kit and pay only £99. PLUS you get to choose either a free project kit from the Spring/Summer catalogue or any two Sale-a-bration items!
You can choose to run a business or simply be a hobby demo, getting discount when you place your own orders. See here for more details or sign up now!
Whether you shop, host or join, have fun choosing your freebie(s)!
And if that's not excitement enough for you then there's also the chance to join …
… Sara's Sale-a-bration Special!
Earn your spot at my Sale-a-bration CELEBRATION in April!
Come to a very special event where I will spoil you! Popcorn, treats, Specials, BOGO, stamping make-n-takes, gifts, games, prizes and more!
FREE! You can only EARN your way in with one of the following choices!
Host a Sale-a-bration workshop or Private Class (Hostesses Earn £20 MORE for FREE! *must be min. £200 in sales)
Purchase the Starter Kit (Get 2 FREE Sale-a-bration choices! Or a Project Kit!)
Spend at least £150.00 during the months of Sale-a-bration! (Jan‐March)
Takes place Saturday, 18th April. (If you qualify and can't attend, I will mail you the make-n-takes and gifts that will be passed out!)
This special is redeemable only with me, Sara Rayner.
Sara xx