Wow! Can you believe that Stampin' Up! has added more freebies to the Sale-a-bration pot!
We're now into the last two weeks of Sale-a-bration – it ends on 31 March 2015 and we're at the stage where all Sale-A-Bration items (with the exception of stamps) will be available "while supplies last" – so if you have a favourite, then please don't leave it too late. Blendabilities are no longer available. So to make sure that you still have plenty of choice in these final two weeks,
Stampin' Up! have added these lovelies to the offer.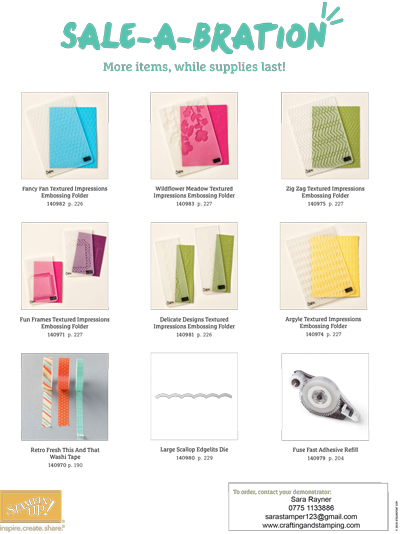 That's in addition to the original Sale-a-bration goodies – here
And the bonus Sale-a-bration goodie released at the beginning of the month – here
We can't complain at the lack of choice! 🙂
Sara xx