Yesterday, I and a group of my Paper Dolls team mates went to a Regional event run by Stampin' Up! We had a great time 🙂
We got to see lots of the new products coming out in the 2015-16 catty which launches 2 June and we got our hands on a few to play, I mean train with 😉 – I'll be sharing some of them with you in my week of sneak peeks, starting on Tuesday 26 May and counting down to the launch date.
As part of the fun of getting together with stampin' friends yesterday I made some swaps to share: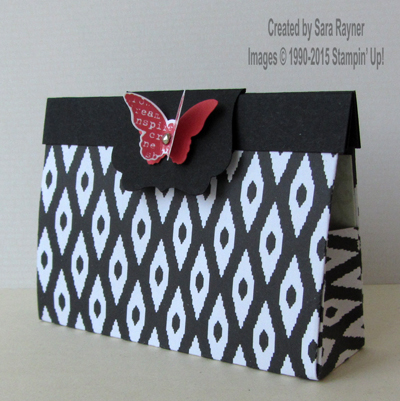 These cute little clutch bags are made with a 6″ x 6″ piece of DSP. The DSP was placed on the Simply Scoring Tool and scored at 1-1/4″ on opposite sides, then turned 90 and scored at 2-1/2″ on the other opposite  sides. After placing the Diagonal Plate on the Scoring Tool, lines were scored outwards from each intersection of the horizontal and vertical lines. The 1-1/4″ edges were folded in to the centre and then back along the diagonals, the outer sections (from the outside as far as the diagonal) were adhered down. The 2-1/2″ lines were folded in next. Two pieces of  1″ x 3-9/16″ of contrasting card were scored longways at 1/2″ and adhered to each top edge of the bag. A Decorative Label was punched from the same colour card, folded in half and adhered to the back of the purse. The mini butterfly from Butterfly Basics was stamped and punched out with the Bitty Butterfly. Another Bitty Butterfly was punched from neutral card. A Mini Brad was added through both butterflies and the loose half of the Decorative Label. Velcro Dots cut in half were used to fasten the purse.
Each purse contained a couple of chews 🙂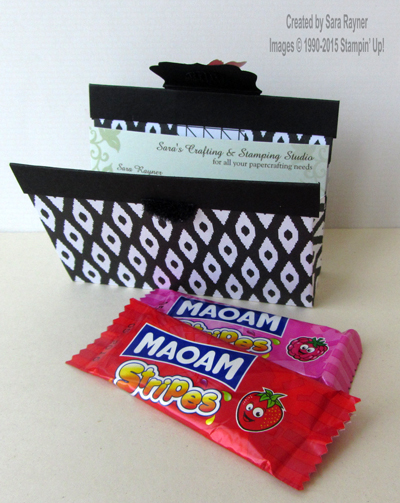 And I managed to make a reasonable size batch for swapping, so got lots of lovely swaps in return.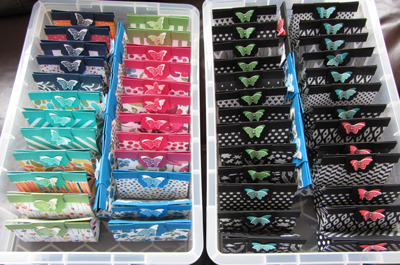 Don't forget, we're at Ecclesfield for the Papercraft Show today if you can get along to see us 🙂
Sara xx