Did you wonder where I'd gone? Perhaps with all the fun and excitement of the Diamond Jubilee weekend you didn't even notice that I'd been gone 

Anyone who receives my newsletter may already have read about my problems using Photoshop after the Mac upgrade to the Lion operating system (don't get the newsletter yet? Use the sign-up box above right – it's free and has an exclusive project with every edition) . Unfortunately the upgrade means that my mobile broadband now no longer works either, which resulted in a lack of blogging while we were away for the weekend. We're back home again now so normal service could be resumed, however I've been rethinking the blog a little…
Hopefully you'll have noticed that I try to blog most days and I do know that many of my friends and customers really appreciate this. However the full instructions that I write for each project take me a long time to write up and I really can't keep up this pace 

 – my downline blog has been suffering recently as I don't have the time to update it and that's really not fair on my team. Rather than reduce the blogging, I've decided instead, to reduce the accompanying instructions for most, though not all projects. I'll still continue to provide full instructions once a week or so, as a free tutorial and on the other days that I publish a project, I'll provide a few highlights. You're always welcome though, to leave me a comment or drop me an email, if you want further information.
I hope and expect that this change will free up more time for me to use for planning online and face to face classes and extravaganzas, as well as let me catch up with my downline blog 

So, for an example of the new style, here's today's double pocket card (there's a  free tutorial for it here).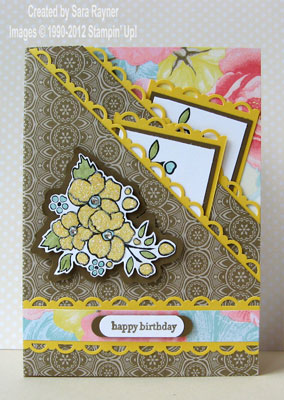 The Attic Boutique (125407) DSP was used for the card itself, taking advantage of the Buy 3, Get 1 Free! offer we have this month. The Simply Scored Scoring Tool (122334) and the Diagonal Score Plate (125586) made easy work of the folds. Bordering on Romance (W125480 or C125482) was used to decorate the front of the card and the tags, with some Dazzling Diamonds (102023) and Basic Rhinestones (119246) adding a bit of bling.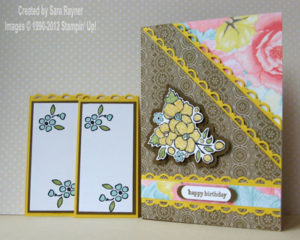 Small decorated tags were slipped into the double pocket on the front. Perfect for adding a couple of hidden messages and/or attaching a gift card.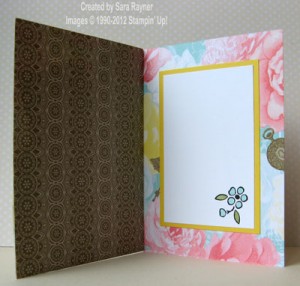 I didn't want to cover up the beautiful paper on the inside completely, but I did want to balance the weight of the card front and so I added a smaller matted panel.
Please drop me a comment or an email to let me know what you think of the changes. Will you be happy enough with more pics of projects or will you miss the detailed instructions?
Thanks for stopping by.
Sara xx