Have you got a looong wish list from this new catty? Buying the Starter Kit is a great way to make a big dent in that wish list without making such a big dent in your purse. You can choose up to £130 of products for just £99 – then you'll get a minimum 20% discount on further orders you place as a demonstrator – and if you sign up in October or November you'll also get a free pack of designer series paper each month you place an order, for up to six months!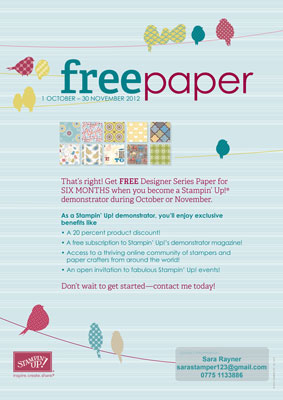 If you are thinking about buying the Starter Kit and want to know more about the benefits of being a demonstrator, then why not come along to our Paper Dolls team training event next Sunday? You'll be able to find out about the different types of team member, chat to others who've joined, share inspiration … and of course we can't meet up without doing some crafting! So, we'll also have our regular agenda items of demonstrations and make and takes.
We'll be meeting at the Doghill Community Centre at Shafton on Sunday 28 October (1.15pm – 3.15pm approx).
We regularly open our meetings to anyone who may be thinking of joining our team or purchasing the SU! Starter Kit. There's no pressure to sign up – we're not that kind of team – just a chance to find out more and get any questions you may have, answered.
We do need to know though, how many make and take packs to prepare, so if you're interested in coming along, then please email me or give me a ring on 0775 1133886 to let me know. I'll give you detailed instructions for finding the venue when you get in touch.
Sara xx