I still have some Boutique Boxes left from my kit (there are 8 in each kit) and decided to use something other than the kit contents to decorate  it.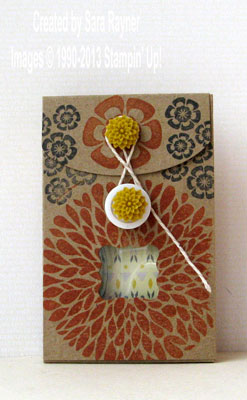 The Petite Curly Label (129405) was used to punch an aperture centrally in the bottom centre of the unprinted side of the box from the Boutique Boxes Designer Printed Kit (129306).  After masking off the side of the box, the large flower from Betsy's Blossoms (W126004 or C126006) was stamped centrally over the aperture using Tangerine Tango ink and the trio of flowers stamped in Basic Gray ink on either side. On the box lid, the medium flower was stamped in the centre using Tangerine Tango ink and the trio again on either side in Basic Gray ink. and a tiny piece of Window Sheet (114323) was adhered behind the aperture before assembling the box. An In Color Dahlia (127556) was popped up on a dimensional and used to secure a piece of Baker's Twine from the kit, to the box lid. Another Dahlia was first adhered to a kit button and then popped up on another dimensional on the box front to make the wrap around.
Here's the box with the mini card that tucks inside it.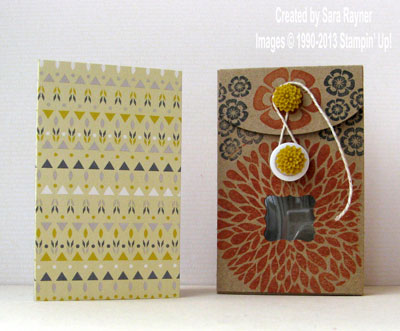 This box sort of evolved, just through having a play, but after having made this one, I'd like to design one with a bit more thought to colour and stamp set 

Sara xx