To help you with ideas for earning your freebies, each week until the end of Sale-a-bration, I'm  suggesting a possible bundle and sharing  a couple of projects that use that bundle. These are only suggestions – you're always free to switch and change to suit your preferences, or choose something else entirely! 

This week's suggested bundle features the Best Year Ever DSP:
BEST YEAR EVER DSP BUNDLE
£25.95  Simply Scored Board (122334)
£10.95  Simply Scored Diagonal Plate (125586)
£6.25 Daffodil Delight Seam Binding (125583)
£2.25  Dazzling Details (124117)
£45.40 Total
FREE Best Year Ever DSP (138633)
(If ordering online then you get to choose your freebie when you checkout).
Here's the first project made with the bundle.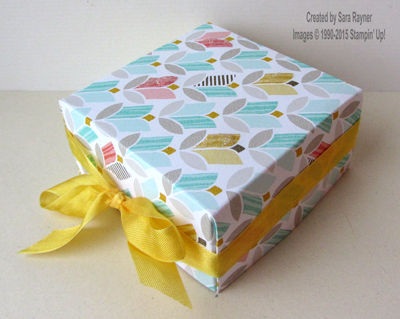 The box base is an 8-1/2″ square of Best Year Ever DSP  and the box lid is a 9″ square of a different design of the same DSP. It was made using the Simply Scored board and Diagonal Plate, following the instructions in our tutorial here. Here you can see that the box base is a different paper.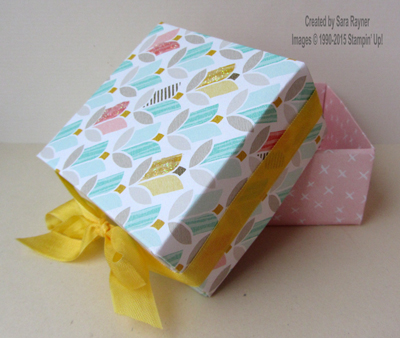 Daffodil Delight Seam Binding Ribbon was wrapped around the sides of the box and tied in a bow and Dazzling Details was used to highlight the darkest petals on the box lid by "colouring them in" with the glitter glue.

I'll be back with another project using this same bundle soon.
Sara xx