On Thursday I suggested a bundle of products that will let you earn the Best Year Ever DSP for FREE and shared a project that used it (here). Today I'm back with a second project using the same bundle.
BEST YEAR EVER DSP BUNDLE
£25.95  Simply Scored Board (122334)
£10.95  Simply Scored Diagonal Plate (125586)
£6.25 Daffodil Delight Seam Binding (125583)
£2.25  Dazzling Details (124117)
£45.40 Total
FREE Best Year Ever DSP (138633)
(If ordering online then you get to choose your freebie when you checkout).
Today we've added a stamp from the Feel Goods set to finish the project.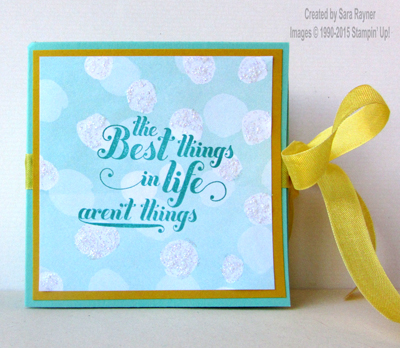 This little squash book when folded up and tied closed, fits easily in a handbag for sharing with friends when you're out and about.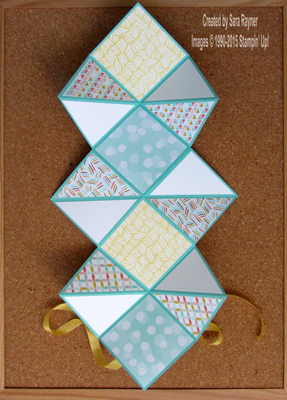 Opened up, each centre diamond is 4″ square so there's plenty of room for pix and the small white triangles give room for journalling to add info about where and when the pix were taken.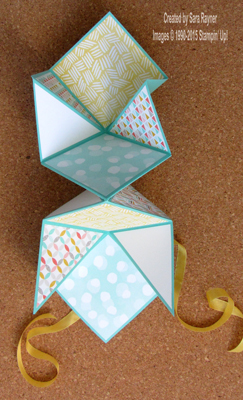 The card bases were three 8″ squares of Coastal card. Each was placed on the Simply Scored Board and scored at 4″ on each side. Next each square was placed on the Diagonal Plate and scored from the zero" mark diagonally on just one side. They were adhered together across the centre diamonds so that they fold shut. The top and bottom triangles were folded forward, mountain fold and the centre triangles folded back, valley fold. 3-3/4″ mats of Best Year Ever DSP were added.   Daffodil Delight Seam Binding Ribbon was adhered across the front of the closed book, ready to tie the squash book closed. A mat of Crushed Curry was added over the top of the ribbon. After stamping a sentiment from Feel Goods in Bermuda Bay ink onto a square of Best Year Ever DSP, it was blinged up with some Dazzling Details and added to the front of the squash book.
I'll be back to feature a different Sale-a-bration product bundle very soon.
Sara xx