I'm running a little late today. I had a workshop this afternoon with a new group of ladies (hi there, if you found your way to the blog *waves*), received a delivery and visited three members of the team. But I was awake early this morning and still managed to sneak a little extra crafting in, lol.
I so loved the swaps that I got at Team Training on Sunday (part 1, part 2) that I'm determined to CASE them (that's Copy And Share Everything). As I'm just doing one of each, instead of ten or so, I can afford to perhaps make them a little more involved.
This page corner bookmark swap was from June: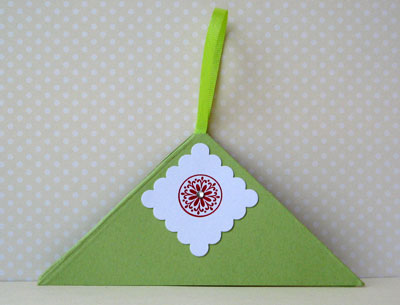 And here's my version: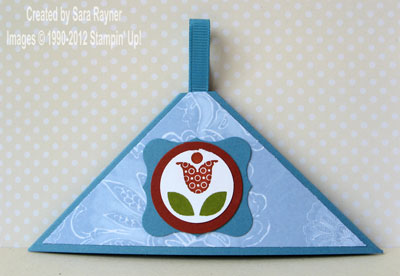 I used a different colour combo (Marina Mist, Cajun Craze and Old Olive), a different set of punches (Curly Label  (119851), 1-1/4″ Circle (119861) and 1″ Circle (119868)) and a different stamp set (Bright Blossoms W125495 or C125497).
A triangle of Paisley Petals 122367 (part of the Buy 3, Get 1 Free offer) was also added to the front of the bookmark.
Thanks June, a great little swap and great inspiration.
Sara xx